Master the Method
With Dr. Arlene

Email YOUR Resume to Dr. Arlene: resumes@barroglobal.com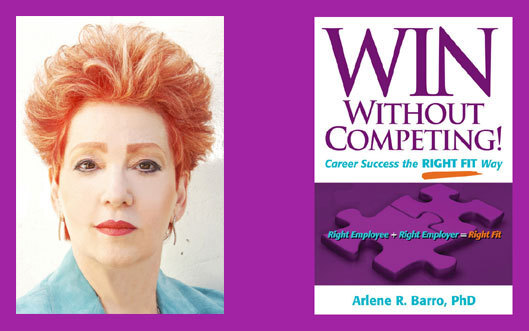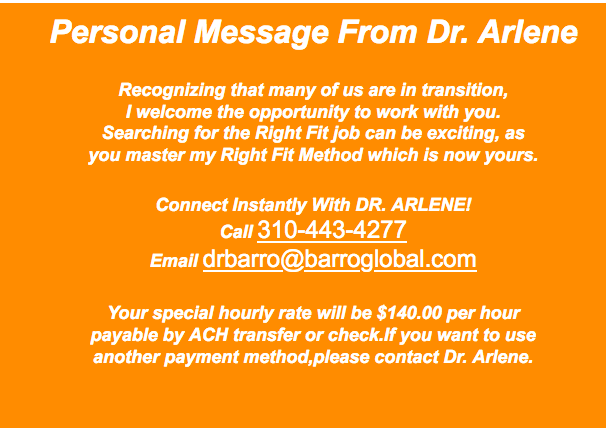 Dr. Arlene Introduces

The Right Fit Brother and Sister

Meet Kai and Mona

Climbing the Ladder to Success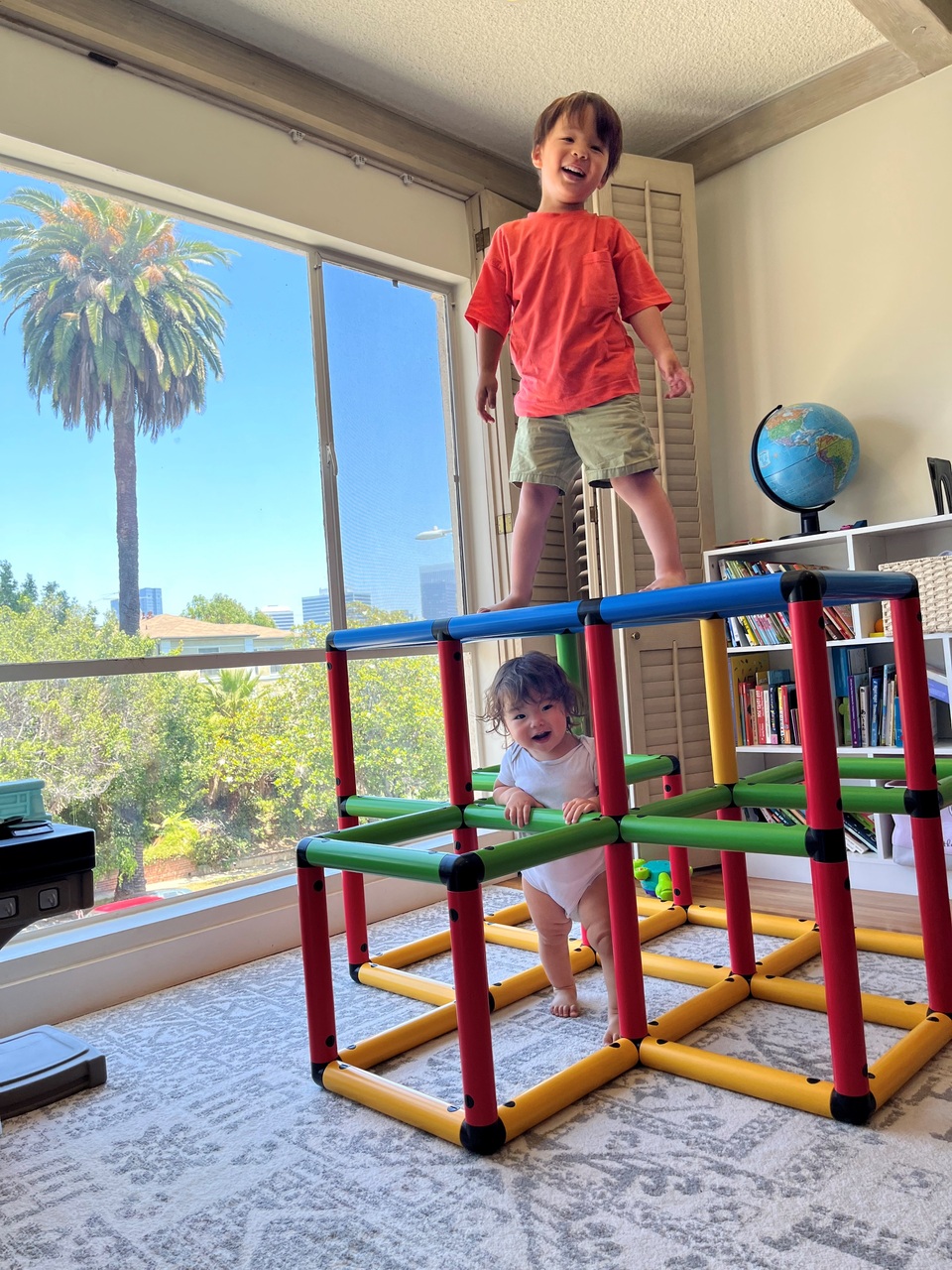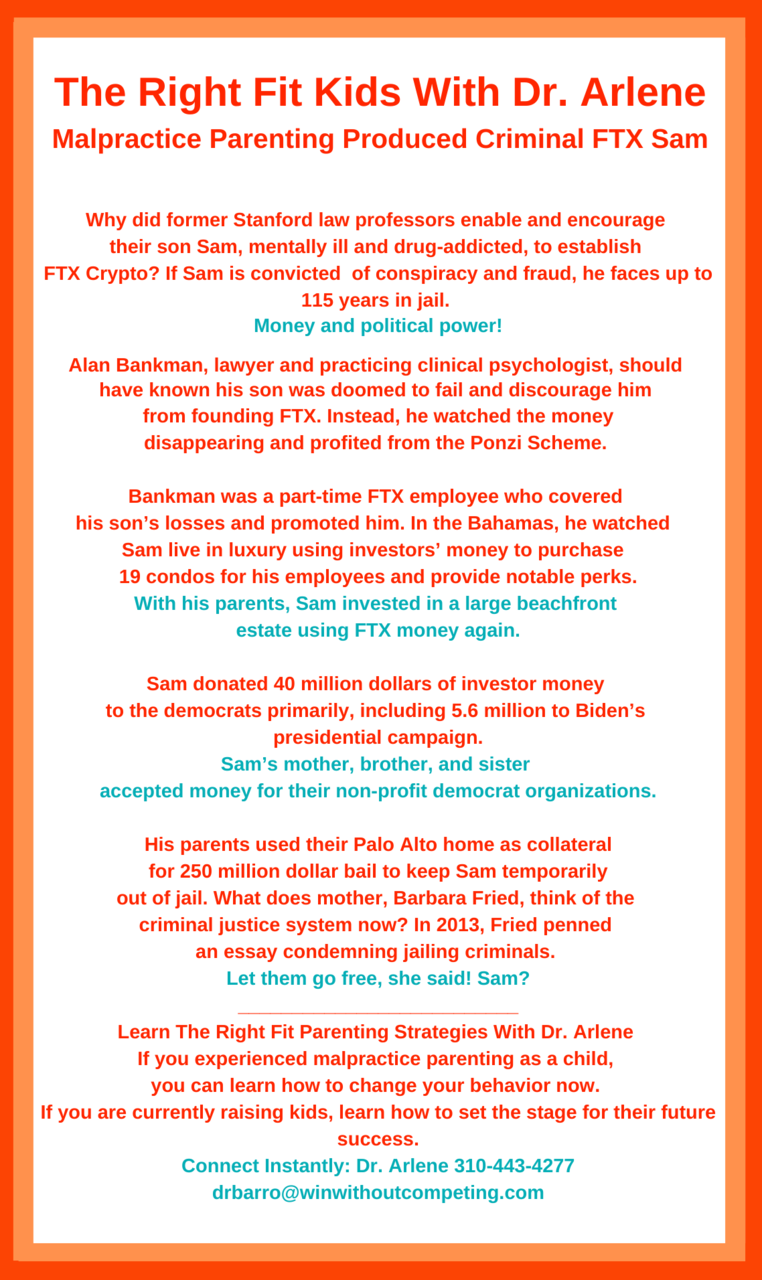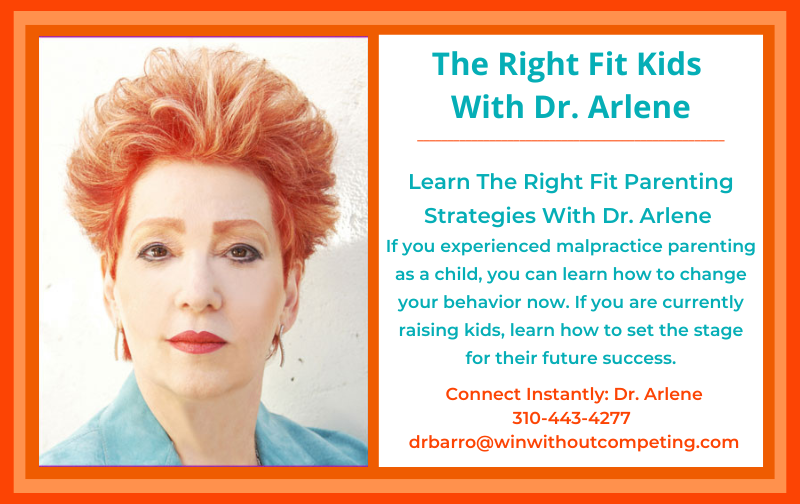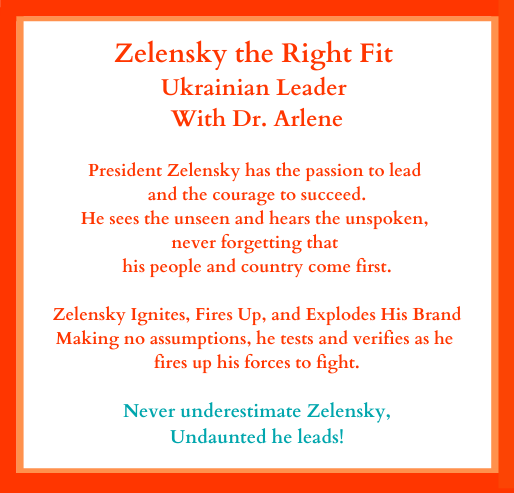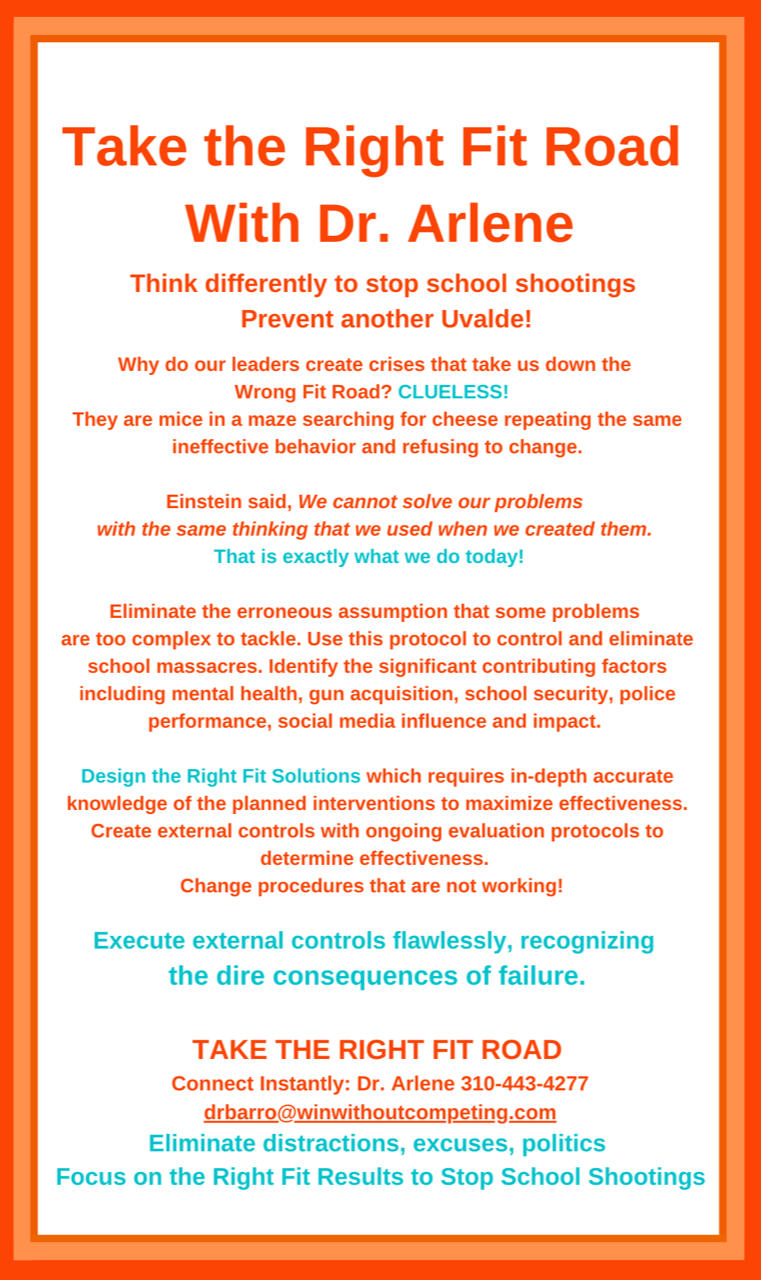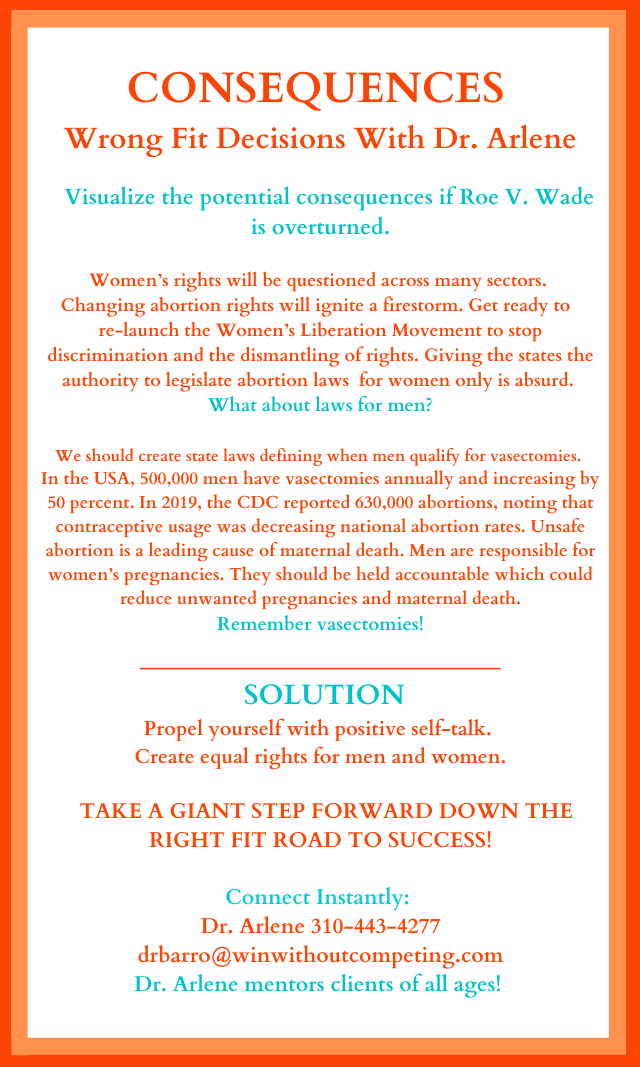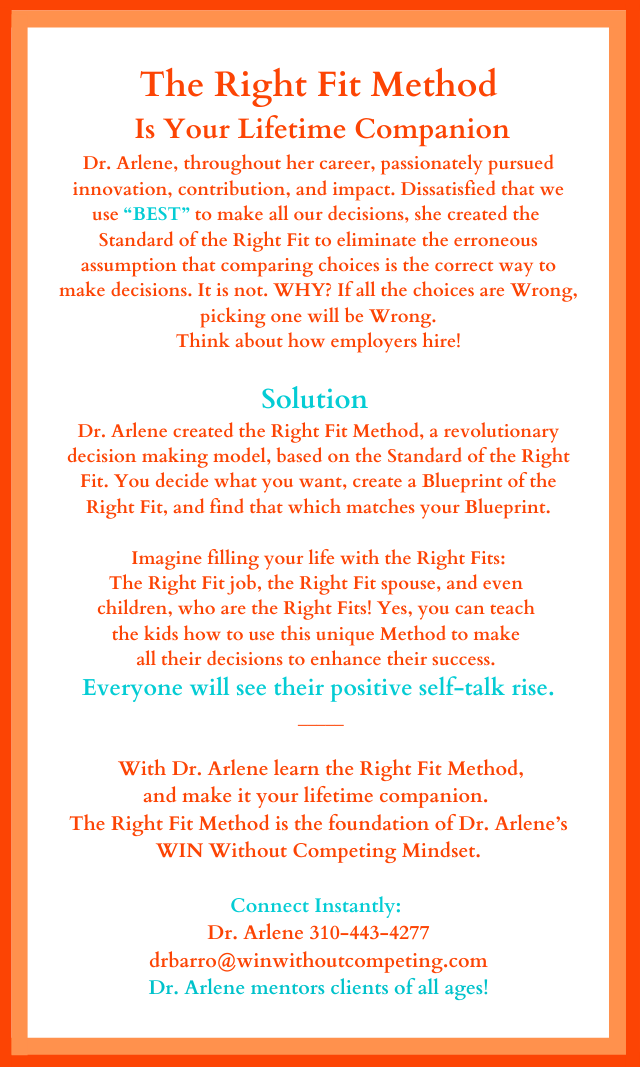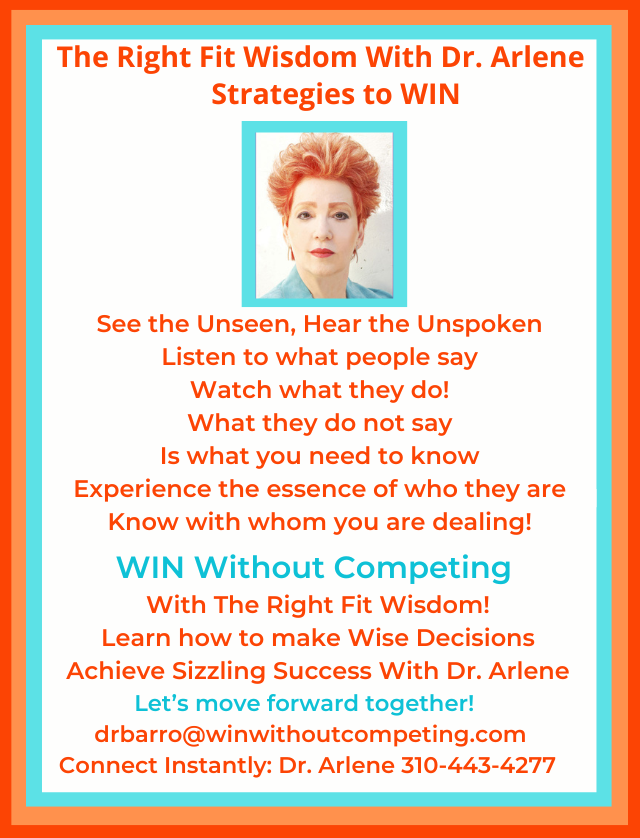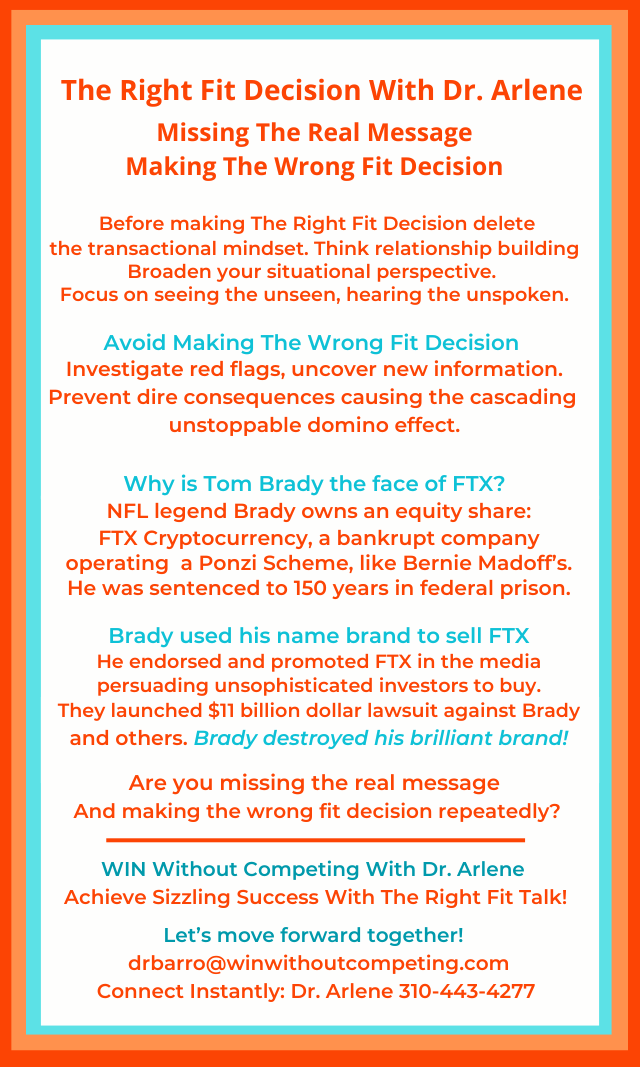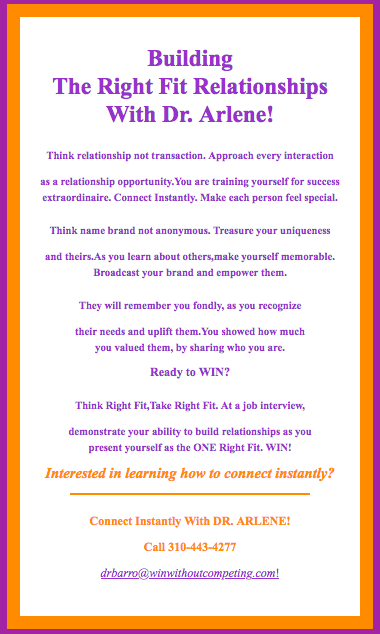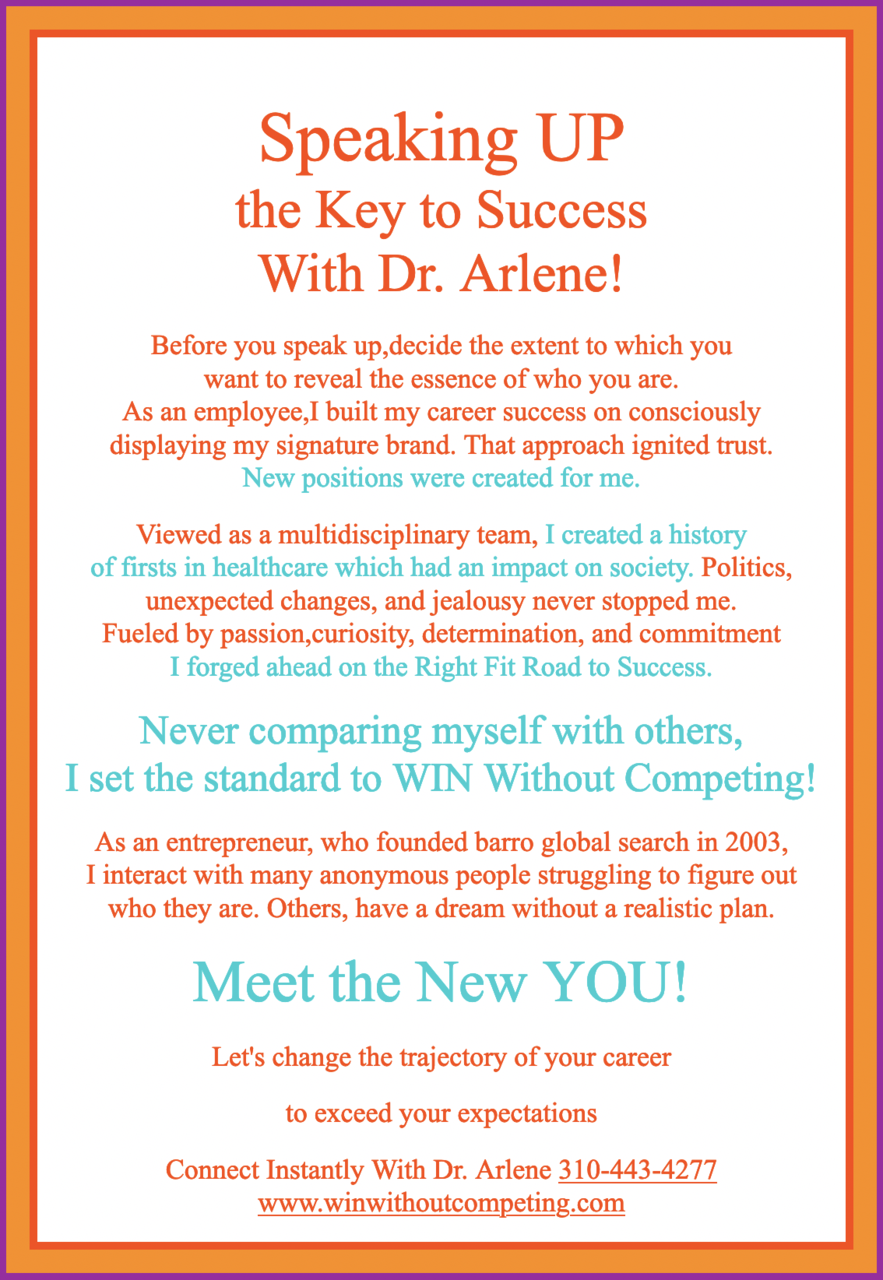 ____________________________________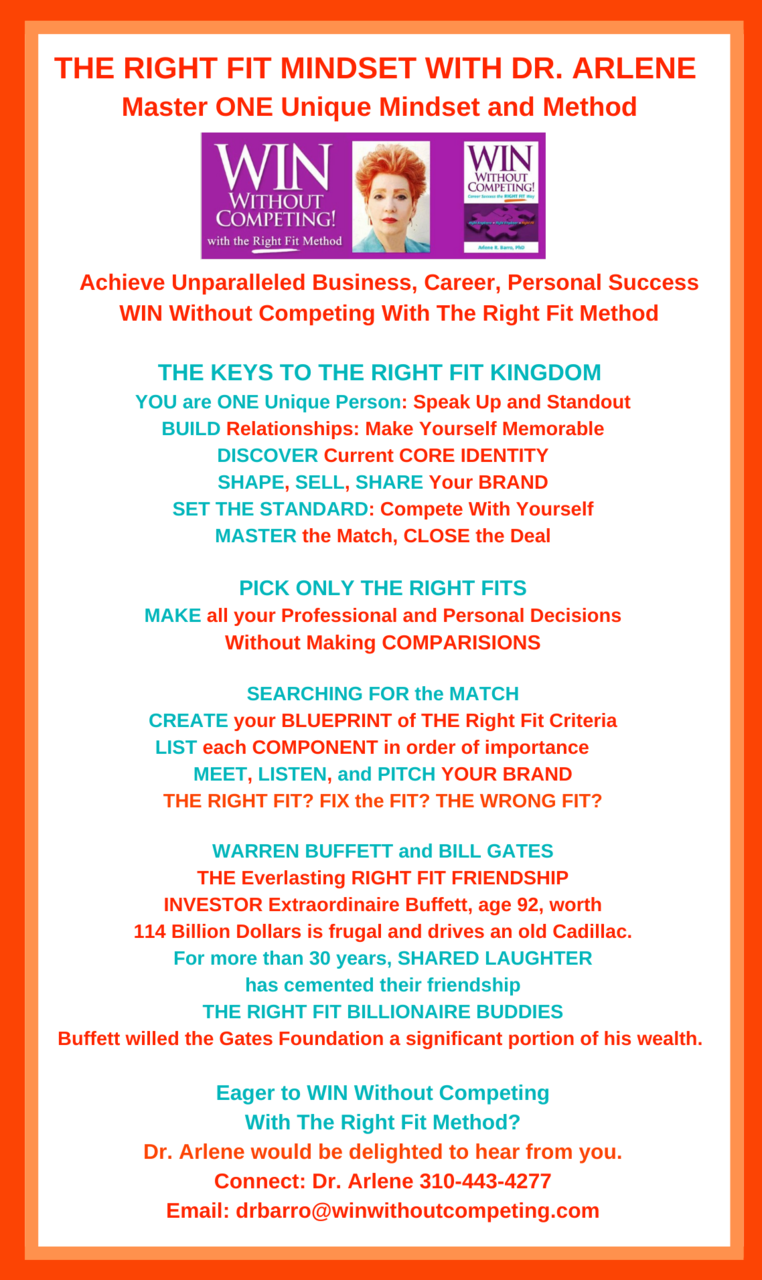 Dr. Arlene Barro, The Master Coach, July 23, 2009
By David Belle-Isle, PhD (Half Moon Bay, CA)

Dr. Barro's "Win Without Competing" leads you into the inner game of personal development with the precision of a choreographer and the wisdom of a master coach.

As a human resource executive, in a critical and protracted career transition, I have engaged Dr. Barro as my coach. Our journey together has been the source of very meaningful gifts...learning how to clarify and embrace my unique career blueprint, affirming my core identity and teaching me how to identify and challenge those faulty assumptions that can get in the way of achieving continued growth and success.

You owe it to yourself to read this book...just know that it evokes an inner call for the courage to take a new look at yourself and learn who you are NOW and how to find the Right Fit for the future.

The result will be renewed emotional and physical energy that will enable you to play and win at your own game.
David Belle-Isle, PhD


__________________________________________


"Few experts offer advice as intriguing — or usable —about the job-search quest as Arlene Barro, president and CEO of L.A.-based barro global search, inc."
––UCLA Magazine, April 2008


__________________________________________


A Candidate, whom Dr. Arlene coached using her Right Fit Method, Don Samulack, PhD, when he became the Director of the Department of Scientific Editing at St. Jude Children's Research Hospital in Memphis. Here's what Dr. Samulack said:

Arlene contacted me in an executive search capacity on behalf of St. Jude Children's Research Hospital. She was able to find me at a time that I was not very visible, in a very niche business sector, in a country outside her own (and her client's), and when I wasn't looking to relocate. Initially, I said that I wasn't interested, but that I'd think about it. After several more phone calls, and as a result of her professionalism and her ability to marry my needs with those of her client, I was hooked. Within 4 weeks, I accepted the terms of recruitment, closed my consulting business, and moved to the US to accept the directorship position in which I remained for 5 years. It was a good career move for me, and for others she placed in the same insitution at the same time (who became very good friends). Arlene has a very unique and effective executive recruitment approach. The time she spent coaching me prior to conversations with St. Jude offered transparency to the process and nurtured a sense of bond with her client, so that I was in a zone of comfort for the final interviews. In my opinion, her coaching skills are the key to her success as a recruiter.


__________________________________________


A Candidate, Dave Osbaldeston, whom Dr. Arlene successfully coached to Hear "You're Hired:"

Dr. Arlene Barro is by far the best recruiter I have ever worked with professionally. Unlike so many other recruiters she really knows the businesses she recruits for and often understands more about the job than the actual employer. If Dr. Barro thinks you are right for the job, then you are hired! She is a true business consultant to her clients making sure she finds recruits that are right for the job. Don't hesitate working with her and call me if you have any questions.
Call Dr. Arlene
 310-443-4277

drbarro@winwithoutcompeting.com