ACHIEVING WELLNESS
Not Managing Disease
With Dr. Arlene!
You have two types of immunity:
vaccinated and natural.
Masks, social distancing, and vaccinations
may not prevent everyone from contracting
the COVID Delta Variant.
Natural Immunity Plays a Significant Role
Create Your Personalized Immunity Program (PIP)
With Dr. Arlene to increase your immunity
which will decrease your overall
disease risk including the COVID Delta Variant.
You can extend your life.

Your Health is in Your Hands!

Be Decisive,Take Charge, and WIN

Longer Immunity for Everyone (LIFE)

Connect Instantly With Dr. Arlene 310-443-4277
to share your story and discuss
Your Personalized Immunity Program.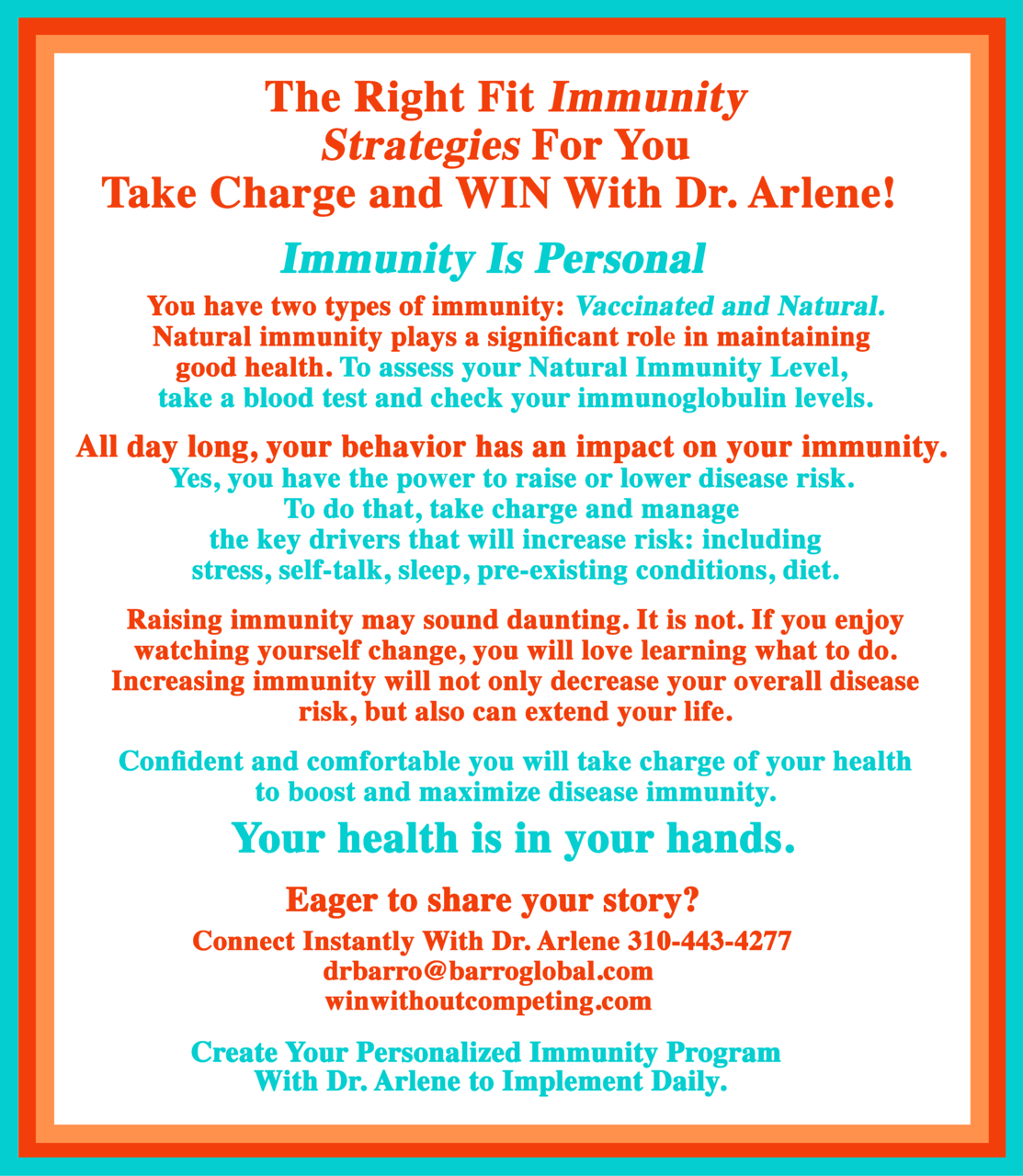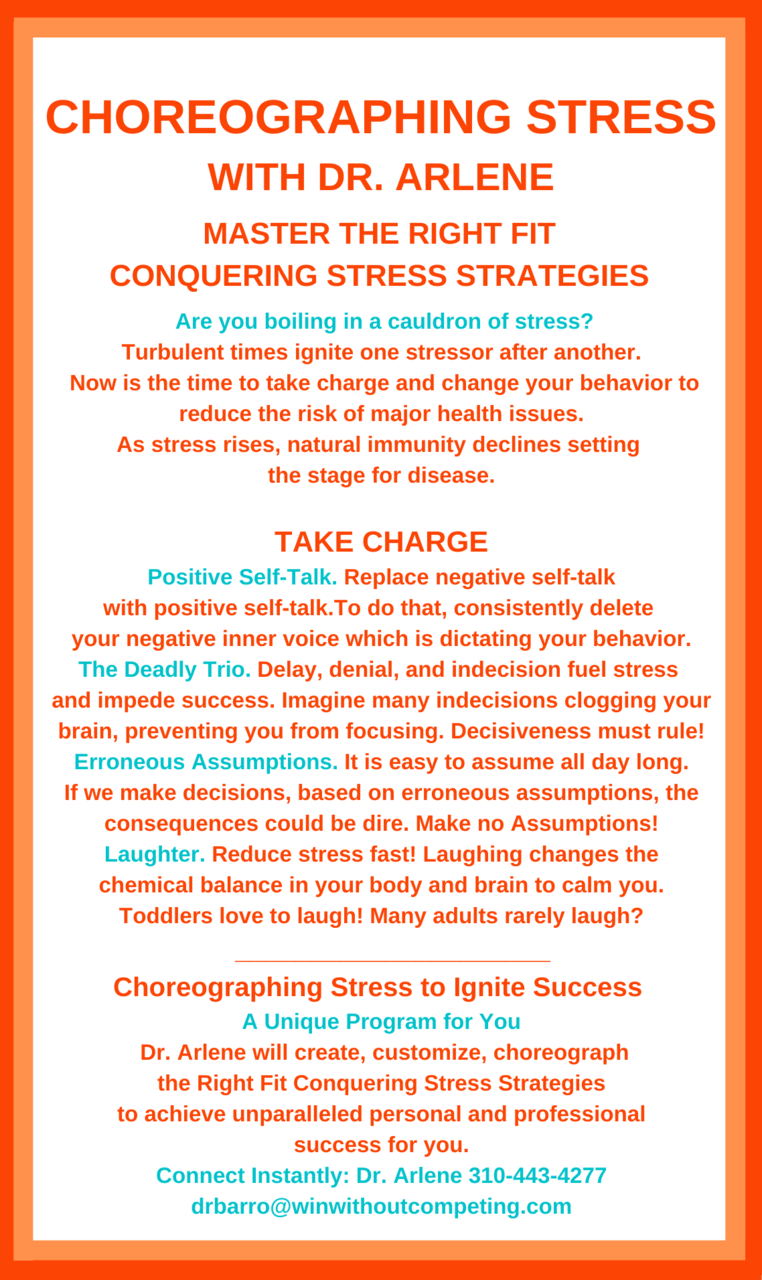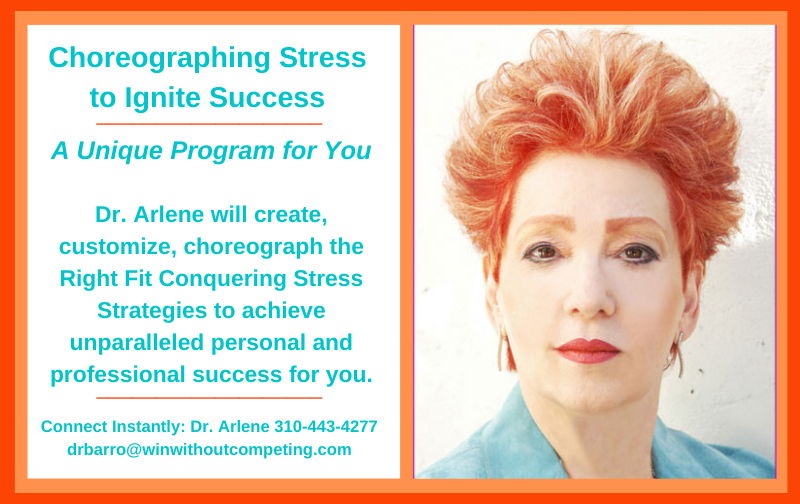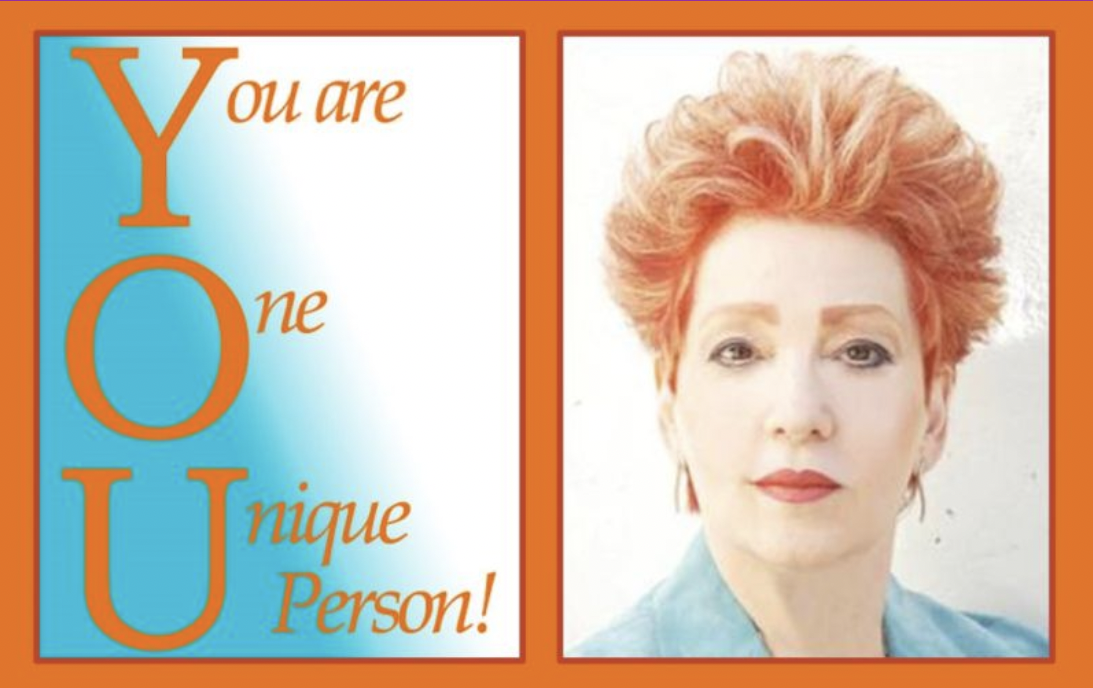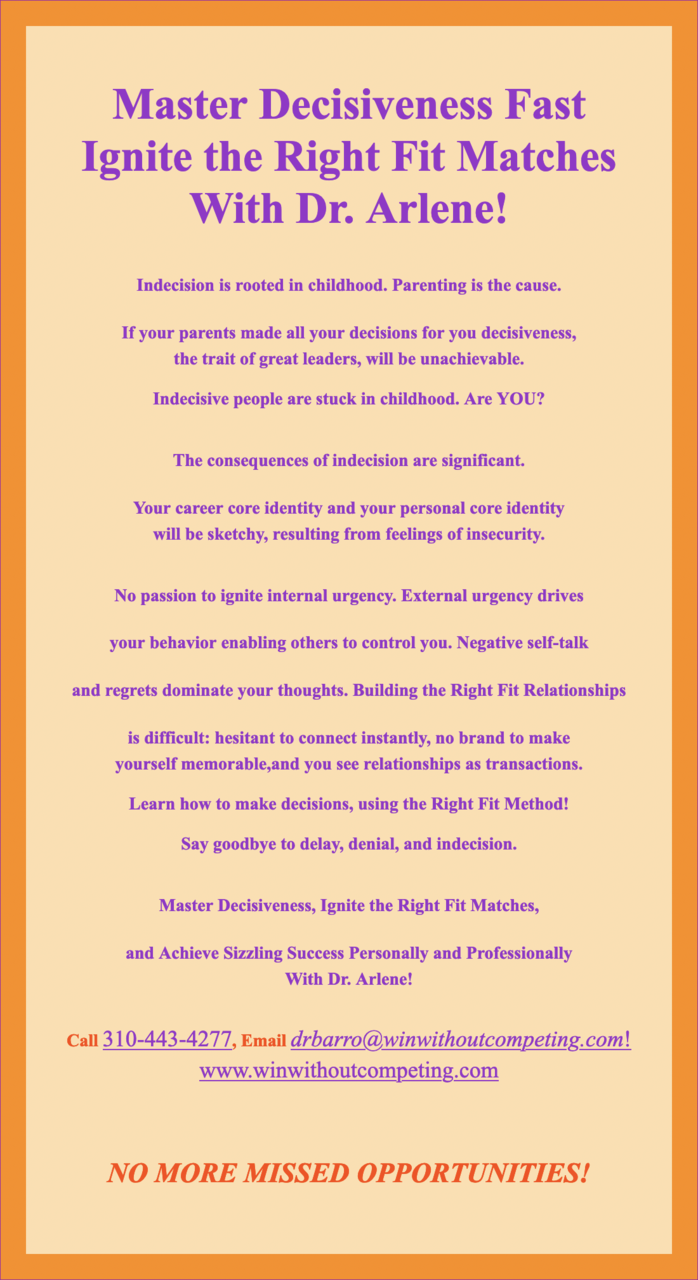 Creating and implementing your Personalized Immunity Program (PIP)
With Dr. Arlene will set the stage for extraordinary success and longevity.
Watch your immunity rise, your stress decrease, and your success soar.

Make 2022 Memorable With Dr. Arlene: Connect Instantly 310-443-4277!
Conquering Stress for Success
and Reducing COVID Risk
With Dr. Arlene!
Stress is like cholesterol. You need the right amount!
Just enought to propel you to success.
Master Dr. Arlene's Right Fit Stress Strategies to Ignite Your Success.
Read a unique, popular, monthly online column originally published on The Beverly Hills Courier website, Conquering Stress! With Dr. Arlene
Select one column daily and start conquering stress while walking down the Right Fit Road to Success.
Launch your Stress Program now with your first click!
Passionately Invest in YOURSELF
____________________________________
Call Dr. Arlene at 310-443-4277 or email drbarro@winwithoutcompeting.com.
______________________________________
YOU have a Brand!!!
"If you don't understand that you have a brand, you can't sell it." -Dr. Arlene Barro

This is an important time of the year to reflect, to learn new success strategies, and to plan for next year. The goal is to hit the ground running in 2021. Candidates seeking full-time positions, self-employed professionals, and business owners share the same challenge. We must sell our brand. It sounds simple. It's not.

The first step is to recognize that YOU have a Brand to sell.

Those seeking new positions have two major challenges: getting interviews and eliciting offers. If you can't capture interviews, then the match between you and the employer is unclear in all your employer communications.

If you're skilled at capturing interviews, but can't get offers you have not convinced the employer to hire you, why not? If you're self-employed or a business owner and can't sell YOUR product or services, why not?
Answer: You have not convinced the Employer, the Buyer or the Client that YOU are the Right Fit!

Remember you're the seller. It doesn't matter whether you're an actor, an accountant, an attorney or you own a business, you must convince the decision-maker to select YOU. To set the stage to sell yourself as the Right Fit, you must change your mindset from the Standard of the "best" to the Standard of the Right Fit.

As children, we were taught to make decisions by comparing and contrasting alternatives to select the best. Think about it. Picture a barrel of rat-infested rotten apples. You compare and contrast the apples searching for the best. Pick one. What do you have? A rat-infested rotten apple. I have asked my rat-infested rotten apple question over and over again. Some people actually say you have the best rat-infested rotten apple. The point is if you compare and contrast junk, you still have junk.

If employers compare and contrast wrong fit candidates and select one to hire, they've hired a wrong fit not the best. This holds true for every decision you make using the Standard of the "best", whether you're searching for a job, a house or a spouse.The Standard of the "best" is the wrong fit standard to use if you want to make the Right decisions. You need to learn how to use the Standard of the Right Fit, which I created, as the foundation of my Right Fit Method. Once you adopt the Standard of the Right Fit you are ready to begin Branding Yourself. Wouldn't it be wonderful to hear…


You're hired!

I want to buy your business!

We want you to host our new reality series!

You can start learning Dr. Arlene's Right Fit Method now and make it yours.
___________________________
Call Dr. Arlene
310-443-4277
Jumpstart
Your Job Search to Succeed
HOW?
Attend the Seminar Series
The ONE Right Fit: Hired!
With Dr. Arlene Barro in October
on the Westside of
Los Angeles.
Pay for the Seminar Series:
The ONE Right Fit: Hired!
If you are interested in attending one or more seminars but not the entire series, space permitting, the cost for each is $75.00. If that's of interest to you, contact Dr. Arlene at 310-443-4277 or drbarro@winwithoutcompeting.com. *Please indicate which seminar you would like to attend when PayPal prompts you to do so.

You can learn more about the Right Fit Method daily. Listen to Dr. Arlene's radio show. She created the WIN Without Competing! show, featured on BlogTalkRadio, to mentor listeners on how to master the Method. The listeners have been delighted with the interviews of highly successful people in which they hear how the Right Fit Method is effective on a daily basis.

On Dr. Arlene's Special Call-In Shows, she focuses on specific aspects of the Method. On a recent show she discussed the relationship between passion and risk in searching for a new Core Identity. Her guests made significant career changes – Engineer to Rabbi – Digital Video Expert to Professional Explorer. Both guests were soaked in passion and approached their risk-taking differently. Listen to that now. After that you have more than 120 shows to go!